Passion for progress
Ysu am gynnydd
The Professional Development Centre Ltd
Is committed to developing leadership capability and capacity at all levels of the organisation.
"Leadership and learning are indispensable to each other."
John F. Kennedy
Becoming….a more critical leader
The Professional Development Centre define Critical Leadership as– "developing the ability to be self aware, to ask questions in order to gain further knowledge and insight. Critical leaders are able to check and challenge themselves in order to find new ways of 'doing' as well as helping others by being a true critical friend. Critical leaders strive to improve and do this by reflecting on behaviour and questioning current practice".
Why learn with us?
Online/Real time/Experiential learning
Bespoke Programmes tailored to the needs of your organisation
Facilitated by highly qualified and experienced professionals
Approved by the Institute of Leadership and Management
Critical Leadership
Our approach is active in every sense – active learning, engaging all the senses, creating environments that help to build self awareness and critical thinking. This space may be physical or mental or, indeed, both, however, it allows room for creative and mindful thought and challenges and helps to build mental resilience. The learning is always in the service of action so our success is measured through our ability to make a difference and measure change in work-place practice.
Learn more about Critical Leaders
Learn more about our workshops and interventions
Learn more about our Masterclasses
Critical Leadership:
How we learn to be better leaders
Our Book – on Amazon
How we learn to be better leaders (the authors)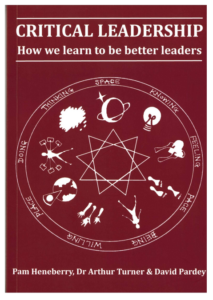 Contact Us
Please get In touch below.
Contact Information
Pam Heneberry
e: pam@pd-centre.com
m: 07801 538967
Leadership – Coaching – Resilience – Wellbeing